Auckland Security Cameras & CCTV
We install security cameras, CCTV & security systems into Auckland businesses so they make more money - and into Auckland homes so they're safer.

Both IP megapixel (High Definition) and traditional analog systems, and you can watch live CCTV footage over the Internet on your PC, smartphone or tablet.
If for some reason you want analog systems, we can help you with that too.
Of course nowadays you can watch live CCTV footage over the Internet on your PC, Mac smartphone or tablet from anywhere in the world.
Read this page if you are serious about getting the best security cameras with no compromise.
Free special report which exposes 3 ways Auckland businesses are spending too much on CCTV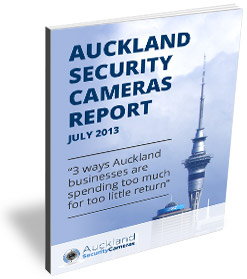 Make sure you download your copy of the new Auckland Security Cameras Report.
It has important information for anyone considering installing or upgrading security cameras.
It will help you get a whole lot more from your system, and it could save you a lot of money and hassle!

---
Video - How we look after our clients
This video testimonial presents our clients Jim and Sandy from Takapuna Art Supplies and they express how our service allowed them to easily access in-store footage of a theft, as well as identifying potential thieves in the act.
 

---
Here's a link to a page full of the most frequently asked questions that people have asked over the years about buying a security camera system
How much do our systems cost?
$2000 - $6000 plus GST
That's a typical range, but we customise every installation, so you always get the best price for what you need.
Lease from $2 a day
Normally very quick and easy to set up. See how small the cashflow can be »


---
What Do I Get?
A CCTV system that works when you need it
This IP security camera page talks about the latest high definition CCTV systems we install, and explains why they are the way customers all over Auckland are moving.
This security camera systems page shows some of the typical analog equipment we install, which may be right for you if your budget is more constrained.
A two year warranty on analog systems and 3 years on IP systems
Technology's not perfect, but when it lets you down, we'll repair or replace it at our cost.
Service and support
We don't just fit the equipment, give you a 30 second briefing and then leave you to it! A lot of people we speak to don't have a clue how to use their system to actually do anything useful - like give a video to the police for example.
That's not good enough, and it's why we go to a lot of trouble to make full instructions and simple 90 second videos available to our customers on our security camera footage help page.
We reply within 2 hours
When you call (09) 551 7716 any time between 7am and 7pm, 7 days a week. Otherwise we'll get back to you by 10am the following day. If we don't live up to this promise, we won't charge you any call out fee if we have to make a site visit.
---
A story a lot of Auckland businesses will relate to
"We wouldn't be without security cameras."
That's what the owner of a Takapuna Cafe told me yesterday. Here's why she said it.
A thief in the business
Almost from day one in their new cafe, the till takings were down. Being new in the industry, and with a brand new business, they thought it was their mistake - "we must be counting wrong."
But they weren't. One of their staff members was stealing from them every day. At its peak in the lead up to Christmas it was about $200 a day! And the stealing went on for months.
Captured on film
Eventually her husband got suspicious enough to go through the security camera footage and voila! The till camera showed what was going on.
The female staff member was simply scrunching notes in her hand instead of putting them in the till. Then she'd walk away from the till and pocket the cash. Easy as that!
The husband rang his wife and said "I know who it is, and it's not who we suspected."
The next day they confronted the culprit with the recorded security camera footage and she confessed to the whole thing. To their great credit they reported her to the Police.
When the judge asked her why she did it, her answer was absolutely typical. "They weren't paying me enough."
Same Cafe - different thief
Unfortunately it hasn't just been staff members helping themselves. A customer had been stealing magazines from the cafe. Just about as fast as they put the new magazines in the rack, this person would deftly slip it into their bag and exit.
In this case the owners simply posted the person's photo on the wall. They never saw them again.
How did they get a photo of the person? From the security camera software of course!
Their advice to anyone weighing up the investment?
"That one's paid for the whole system already." the husband told me, pointing at the till camera that caught the staff thief.


---
Auckland Security Cameras Ltd
PO Box 32293 Devonport
Auckland 0744
Phone (09) 551 7716
Quality installation of security cameras Auckland wide, including the North Shore, Waitakere, Manukau, Takapuna, Glenfield, East Coast Bays, Beachaven, Birkdale, Birkenhead, Albany, Northcote, Devonport, Auckland Central, East Auckland, Pakuranga, Howick, Botany, Glendowie, St Heliers, Newmarket, Mt Eden, Epsom, Ponsonby, Grey Lynn, Remuera, Mt Albert, Mt Roskill, Onehunga, Henderson, Te Atatu, West Harbour, Mangere, Otahuhu, Papatoetoe, Otara, Airport Oaks, Penrose.


---
Website Table Of Contents
Business security cameras you can view over the internet or on your smart phone.
Why use an IP security camera? High Definition CCTV, that's why.
Home Security Camera Systems
Free Retail Profit Report - 5 Proven Ways To Quickly Improve Profits In Your Auckland Retail Shop
CCTV news and other useful stuff to help you get the most from your security cameras.
The Auckland Security Cameras Blog keeps you up to date with all changes and updates to the site, and with any news we think might help you shoot more baddies!
About Us. 100% Auckland Owned and Auckland Focussed Security Camera Company
Help Page. Videos and instructions to sort out any trouble viewing your security camera footage.
Contact us about protecting your people, your property or your profits.
---
Google+