Cheap Security Cameras In Auckland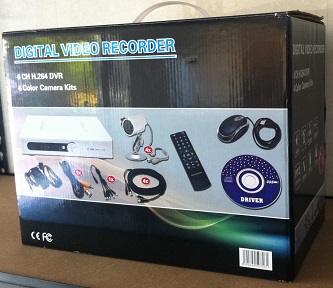 If cheap security cameras are just what you need, we've put together the best deal in Auckland.
It's a Kit with 4 x 700 TVL analog cameras and a network DVR so you'll be able to watch online and on your smartphone.
Similar kits retail around Auckland for up to $1200 but you can get yours today for half that at $600 + gst.
The Cheap Security Cameras Kit

Here's what you get:
A 4 Channel Network DVR capable of enabling you to access your system remotely over the internet and on your smart devices.
A 500 Gb security grade Hard Disk Drive with a 5 Year Warranty to store your video on inside the DVR.

4 x analog security cameras with 700 TVL resolution.  That's higher than any other kits available in Auckland today.   The cameras are also weatherproof and vandal-proof and have infra red leds so you can get a picture even in pitch black at night.
4 x 18m long cables to connect each camera to the DVR.  These cables supply power to the cameras and also transmit the video data to the DVR.
A CCTV camera power supply.   Just plug into the mains and connect the four leads to your 4 camera power cables and you're away.
A PDF written by Auckland Security Cameras explaining how to set it all up.  Most suppliers are lazy and expect you to be able to interpret the flimsy little brochure that comes with the equipment.  We know from bitter experience that's no good enough.  This PDF will explain everything you need to know to install your system, including the trickiest part - setting up your internet modem so you can have remote access.
A full 2 Year Warranty.  Our research shows most suppliers offer 'warranties' ranging from 0 months to 12 months.  Of course these comapnies are mainly just selling boxes, so don't expect any help from a security camera specialist.

Order Now

The quickest and easiest way to get your new kit is to click on the button below.

---