Home Security Cameras
Answers To Your Frequently Asked Questions
You probably have some of the same questions about home security cameras that thousands of other people have asked us over the years, so hopefully these answers will help you:
What About Privacy?
NZ Privacy law doesn't apply to your home CCTV.  Read here to learn more about privacy and cctv.
How Much Will It Cost To Get My Place Covered?
Between $12 and $46 per week depending on the quality of the equipment & how hard it is to run cables to the cameras.  
The very easiest is a house under construction because the cabling goes wherever you want it and it stays invisible because it all ends up behind the linings.
The next easiest is a single storey house with cameras mounted under the eaves because we can run all the cables in the ceiling space.
The hardest is an architecturally designed concrete bunker of a house with zero ceiling spaces or any other sort of spaces for running cables.  There's always a way to get it done but it's likely to require conduit, trunking and/or wireless devices - all of which add to the cost of installation.  On the other hand these modern homes may have more ethernet jacks than older homes, so because you only need to run the cable from the camera to the ethernet jack, some of the cable runs can be shorter.
How Many Home Security Cameras Do Most People Have?
4.
Driveway/Front Yard.
Back Yard.
2 sides.
Some homes we've done have more and these may include dedicated cameras on the front and rear doors and also inside the house to capture faces of burglars after they've gained entry.
What Will My Home Security Cameras Look Like?
Your choice really.  
Anything from big and ugly, to domes to elegant almost invisible.
Will I Be Able To See It On My Mobile?
Yes, if you get it installed & supported by us.
I say that because I often see systems installed by other people that are quite capable of being accessed remotely via the internet - but for on ereason or another the installers didn't set it up.
It can be challenging because every mode is different and I know a lot of companies shy away from it for that reason.
We will do it.
Are Home Security Cameras Wireless?
Probably not.
Remember that most so-called 'wireless' cameras have a wire connected to them.  That's how they get power.
So, because you need to run a cable to the camera for power you might as well run one to it for data right?  Right!  Especially because these days it's the same cable.
A truly wireless camera still has to get its power from somewhere, so you're left with batteries ( only good for a few hours normally), or solar power ( only really economic  for remote locations or places where you simply can't run a power cable to).
Does It Have Night Vision?
Yes but ... be aware that most manufacturers use built in infra-red lenses with an 850nm wavelength IR light.  While you will get an image even in very low light, it will not always be of much use for several reasons.
One of which is that the human skin contains oils which tend to produce a white out effect under this type of light, so the useful features are lost.
The best camera manufacturer in the world, Mobotix, does not use this method in any of its cameras!
Instead it uses very high quality night sensors and recommends you provide the best type of light that any camera can have - white light.  
Around homes a white sensor activated flood-light is best because it has the double effect of startling the intruder and at the same time, providing perfect conditions for the cameras to capture and record facial features.
Does It Have Motion Sensing?
Yes.
The better cameras have clever methods of preventing too many false alarms.
Mobotix cameras even have event logic so you can program them to take action only if this and that and that happens.
Will It Alert Me If Anyone Comes On The Property?
No for the cheaper cameras.
Yes absolutely for the Mobotix cameras.  Particularly when combined with our Incident Monitoring system using the Auckland Security Cameras App.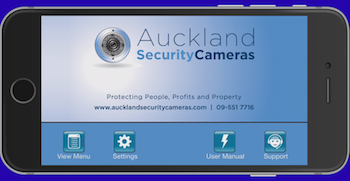 ---


Quality installation of security cameras Auckland wide, including the North Shore, Waitakere, Manukau, Takapuna, Glenfield, East Coast Bays, Beachaven, Birkdale, Birkenhead, Albany, Northcote, Devonport, Auckland Central, East Auckland, Pakuranga, Howick, Botany, Glendowie, St Heliers, Newmarket, Mt Eden, Epsom, Ponsonby, Grey Lynn, Remuera, Mt Albert, Mt Roskill, Onehunga, Henderson, Te Atatu, West Harbour, Mangere, Otahuhu, Papatoetoe, Otara, Airport Oaks, Penrose.

---
---
Return from Auckland CBD CCTV Installations to the CCTV Auckland page
---
Return from Auckland CBD CCTV Installations to the Auckland Security Cameras home page