How To Get Notifications From Your Mobotix Cameras Using Pushover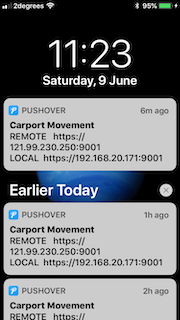 Mobotix cameras can't send Push notifications directly.
You use a 3rd party to do it.
The Aussie service I had been using was expensive & complex with poor service so I looked around for a better solution.
Here it is.
It uses Pushover.
Here's what you need before you start:
A smart phone
A computer
To know how to login to your camera as an admin user on a computer web browser
A gmail account
Your gmail account User Name and Password
US$4.99 
Here's The 2 Step Process:
GET PUSHOVER.   First install the  Pushover App on your phone.  You'll create an account.  You'll get a unique email address like

vs4gfkdvuu@pomail.net

.  Make a note of that because you'll need it soon.  You pay about $4.99 once only per platform and you get 7500 notifications per month.

PROGRAM YOUR CAMERA.  Next you setup your MOBOTIX camera to send an email to that weird pushover email whenever a particular event occurs in the camera.  Obviously you'll probably use Activity Sensor so I'll use that in this example.
That's it!  When Pushover's servers get the email from your camera -  BOOM! - they send you a push notification.  Happy days.
Step 1 is easy.  If you get stuck hit me up on the website or the facebook.
Here's the detailed 'How To' for step 2. PROGRAM YOUR CAMERA.
Admin Menu > E-Mail Profiles
Addressing:  your gmail address
Authentication Method: SMTP Login
SMTP Server: smtp.gmail.com:587
Login User Name: your gmail user name
Login Password: your gmail password
Add new profile
Name your new E-Mail Profile  PUSHOVER
Addressing: put your pushover email here
E-Mail Message Subject Text:  something that describes the event eg Driveway Movement
Set > Close > OK
Setup Menu > Action Group Overview
Add new group
Action Group Name: PUSHOVER
Event Selection: Image Analysis: AS
Add New Action
Action 1: select E-Mail: PUSHOVER
Set > Close > OK
That's it.  Now go walk in front of your camera & test it.
If you've done it right AS will trigger and you'll get the notification.
If it doesn't work DON'T PANIC!
First test that the camera is ending the email properly by doing this:
Admin Menu > Test Current Network Configuration
Close any pop up window.
Scroll down to your E-Mail Profile called PUSHOVER
Click Transfer
Close the pop-up and scroll down again and you should see a friendly green message "E-mail has been sent!"
Anything in red is bad. 
Very bad. 
Actually it's not that bad. 
Go back and check your email settings at Admin Menu > E-mail Profiles and correct what's wrong.
Let me know how you got on. info@aucklandsecuritycameras.com
---
Return From Mobotix Push To The Help Page Security Camera Footage
---
Return from Mobotix Push To The Auckland Security Cameras Home Page
---


Quality installation of security cameras Auckland wide, including the North Shore, Waitakere, Manukau, Takapuna, Glenfield, East Coast Bays, Beachaven, Birkdale, Birkenhead, Albany, Northcote, Devonport, Auckland Central, East Auckland, Pakuranga, Howick, Botany, Glendowie, St Heliers, Newmarket, Mt Eden, Epsom, Ponsonby, Grey Lynn, Remuera, Mt Albert, Mt Roskill, Onehunga, Henderson, Te Atatu, West Harbour, Mangere, Otahuhu, Papatoetoe, Otara, Airport Oaks, Penrose.

---