CCTV Auckland Wide Installations

This page shows examples of installations of CCTV Auckland wide, that Auckland Security Cameras Ltd has done over the years.  You can see how other Auckland businesses are using CCTV technology, and you might find some ideas on how it might work for you.
Some of these examples are what you'd expect but some of them might surprise you!
Mangere CCTV Installations - Logistics, Warehousing, Manufacturing
We've done so many of these over the years they all start to look the same after a while!
Big boxes full of toys to a thief unfortunately, but a lot of Auckland sites like this are fighting back with CCTV.
Security cameras at these sites cover vehicle access, inwards and despatch areas, aisles, Customs areas, office areas, cafeterias and many more.  They're a big ship to run with lots of people coming and going, and normally only a small management crew.
AITA regulations often dictate a very high level of security for some of our airport customers as well.  In those cases we normally install our higher end system.
Manukau CCTV Installation - Apartment Building
We look after several large accommodation sites in Auckland.  CCTV in these buildings is critical to the Body Corporate so they can assist the building managers with their day to day running of the site.  
Carparks, entrances, rubbish rooms and every accommodation floor is covered.  The system makes the residents feel safer and helps the building owners protect their sizable investment.
These buildings are large and complex but that's exactly the way we like it!  We've developed a lot of expertise in these buildings over the years, so we can always design a system upgrade or a new install with a minimum of fuss.
Here's more details of this Manukau CCTV installation.
Otahuhu CCTV Installation - Food Wholesaler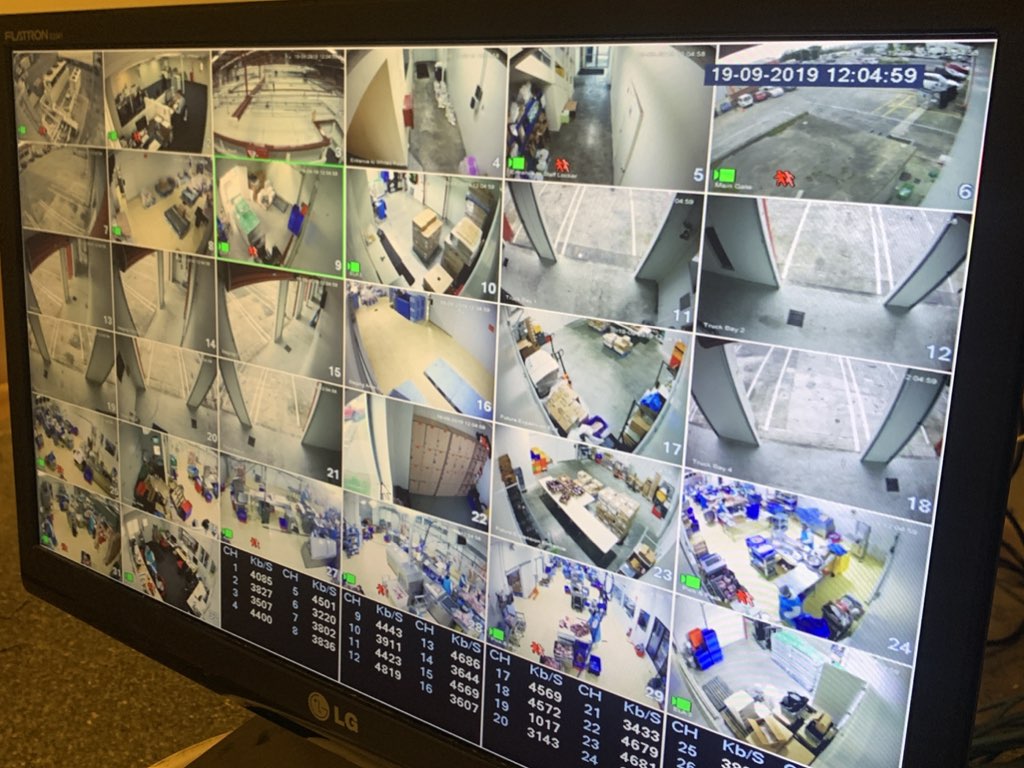 A multi- camera system was installed at this brand new site as it was built.  Cameras cover all important areas including all loading and unloading operations, all the vehicles that enter the carparks (license plates captured day and night) and even inside the fridges.

Auckland Harbour Bridge Bungy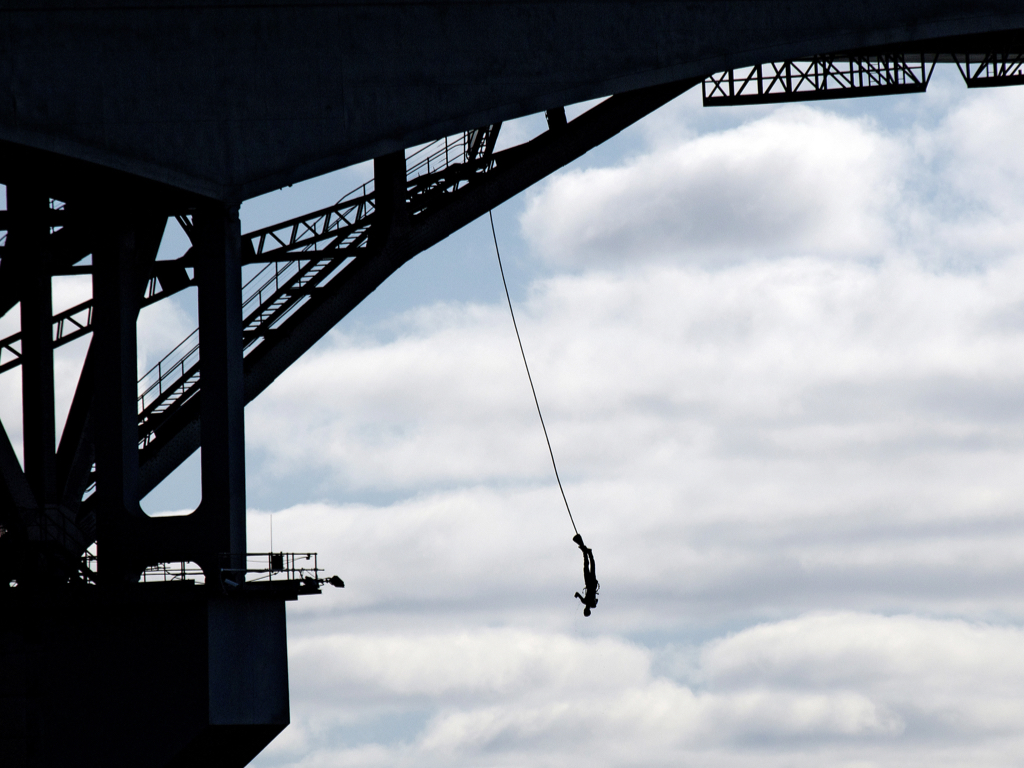 Ever thrown yourself off the Bridge and lived to tell the tale?  If so your safety has been assured by our security cameras.
We installed cameras to enable the operators in the Pod to keep an eye on what's going on beneath the Bridge jump zone.

Auckland CBD CCTV Installations - Queen's Wharf, Viaduct, St Mary's Bay

If you partied in Shed 10 or visited the Cloud then you were starring on our system, which was installed in both buildings in the last 10 days before the Opening Ceremony - if it wasn't for the last minute I'd never get anything done!
Check out this story.  It's one of our recent Auckland CBD CCTV Installations in a large multi-building apartment complex.  A really interesting security camera installation project this one.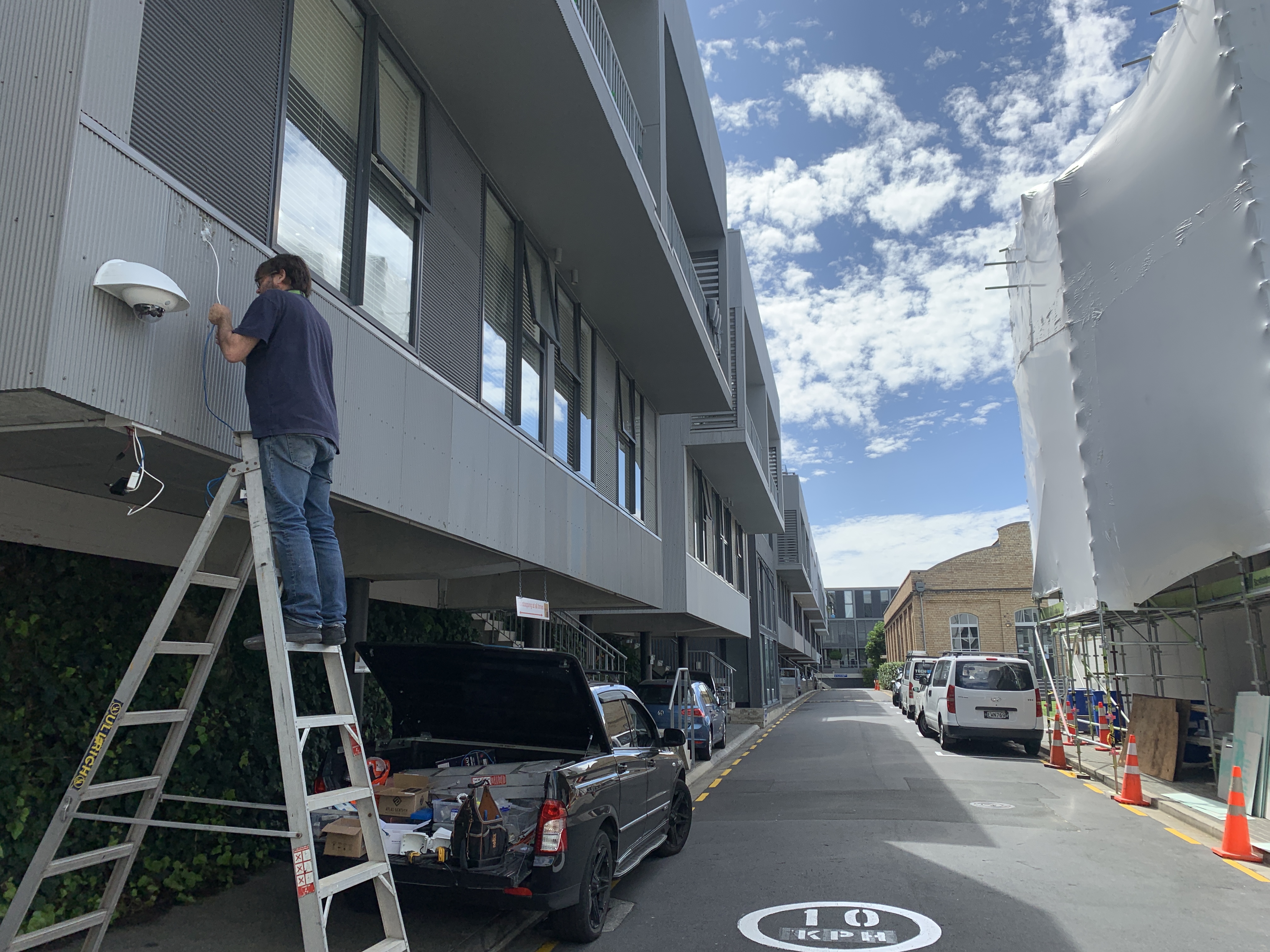 We've done a number of restaurants & other CBD businesses in and around the Auckland Viaduct area and North Wharf.   Let's hope these businesses bounce back big time once the Covid 19 lockdown is over.
South Auckland Rural CCTV Installation - Horse Cam

One of our rrual clients who travels a lot overseas on business wanted his wife to be able to keep an eye on their precious ponies in the paddocks that aren't easily visible from inside the house.
Solution?  Auckland Security Cameras installed a powerful 43 x PTZ (Pan-Tilt-Zoom) camera on a pole in one of the paddocks.  Now his wife can watch the ponies live on the big screen TV in teh lounge or on teh monitor in the Office.

Industrial CCTV Installation - Cable Cam

A huge electrical cable is being run by an engineering company to power a part of the Auckland area that's vulnerable to outages. 
Why security cameras? 
They wanted a simple way to record the surface of the cable as it was fed into its underground home.
A simple rig consisting of 4 cameras and a DVR was made to record every inch of this masive cable as it was laid, just in case there were any costly defects.

With CCTV Auckland Business See More Clearly

With the incredibly high image quality available in the 2020s, there's no excuse for Auckland businesses not to have a crystal clear view of their operations.
Even if you have an older low resolution analog CCTV system it's easy to upgrade, and we can often use the existing cabling.
---
Auckland Security Cameras Ltd
PO Box 32293 Devonport
Auckland 0744
Ph: (09) 551 7716
Quality installation of security cameras Auckland wide, including the North Shore, Waitakere, Manukau, Takapuna, Glenfield, East Coast Bays, Beachaven, Birkdale, Birkenhead, Albany, Northcote, Devonport, Auckland Central, East Auckland, Pakuranga, Howick, Botany, Glendowie, St Heliers, Newmarket, Mt Eden, Epsom, Ponsonby, Grey Lynn, Remuera, Mt Albert, Mt Roskill, Onehunga, Henderson, Te Atatu, West Harbour, Mangere, Otahuhu, Papatoetoe, Otara, Airport Oaks, Penrose.
---
Return from CCTV Auckland to the security camera systems page
---
Return from CCTV Auckland to the Auckland Security Cameras home page
---