Lo-res security camera systems

Components of a typical DVR security camera system
This page gives you some idea of what goes into our analog security camera systems. It's not our entire range.

For example we also do PTZ cameras (pan-tilt zoom), and more high spec cameras for specific uses such as license plate recognition.
As with all analog systems you're restricted to low resolutions but they are a much lower investment than the high resolution IP video surveillance systems described elsewhere on this site.
Cheap and cheerful 4 Camera DIY Kit

In fact if you're on a tight budget get hold of one of these kits.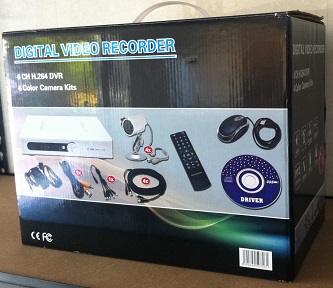 They might be a starting point before migrating to the more capable systems later - that'll be your call.
Right now, if it's anything to do with security cameras in Auckland, it'll probably pay you to get in touch with us.
Also if your system is giving you problems check out this page about common CCTV issues.
While you're at it why not check out some of our interesting installations of CCTV Auckland wide.
---
CCTV store plan
This is an example of a simple, small convenience store CCTV plan containing:
• 8 cameras
• 2 hi-res for POS
• 1 wide dynamic-range for door entry
• Remainder either lo-res or hi-res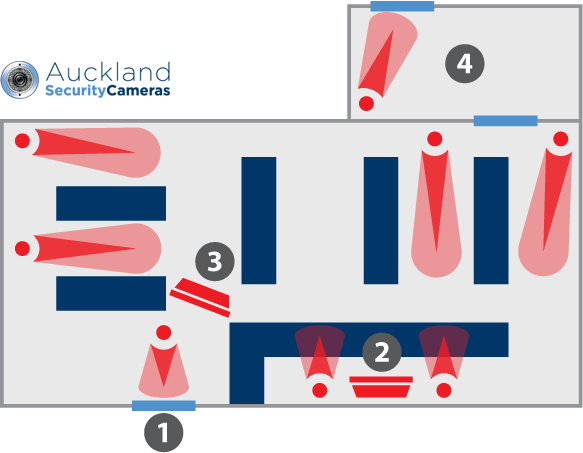 1. Entrance from street
2. Flatscreen monitor at counter displaying all camera footage
3. Flatscreen monitor at entrance displaying all camera footage
4. Back room


Contact our team to discuss a CCTV plan for your business

---
Wide angle, infra red, vandal dome camera
Good for general overview shots of an area as it has a 72 degree wide field of view. Not suitable for POS (point of sale) or for face recognition.

Typical Specs
• 600 TVL
• Color CCD
• 3.6mm waterproof lens
• Infrared
• Vandal dome
• 21 PCS 5mm
• IR LEDs
• 20m IR distance
• Reflection resist
• Ceiling
• 360°
• 2.5"


---
Variable focal length, infra red, vandal dome camera - WDR version also available
Good for situations where more detail is required such as over a POS or where you need to reliably get details like faces. If it's facing a doorway with sunlight on the other side, make sure you get the Wide Dynamic Range (WDR) version.

Typical Specs
• 600 TVL
• Sony color CCD
• 4~9mm vari-focus lens
• Waterproof
• Infrared
• Vandal dome
• 30m IR distance
• Lens can be adjusted outside
• Reflection resist
• Ceiling
• 360°
• 3"


---
Waterproof infra red camera
Good for outdoor situations day and night. Not suitable for license plate recognition.

Typical Specs
• 700 TVL
• 1/3 Sony Color CCD
• Bottom adjust vari-focus lens
• 4~9mm
• Waterproof
• Infra red
• 40m IR distance
• Cable inside bracket


---
Specialized license plate cameras
Pretty self explanatory really! You definitely need the right camera for this job, as there are some real technical challenges to reliably capturing plate details.

Typical Specs
• 6 - 60mm lens vari-focal
• 600 TVL
• Infra red
• 40m IR distance
• Cable inside bracket


---
Digital video recorders
Captures and records the video and still images on a hard disk drive. You can then access both the live and the recorded footage either locally using a monitor connected to the DVR, on the local area network using a PC on site, or remotely in several ways including on any PC with internet access, on your i-phone or similar smartphone or on your i-Pad.

Typical Specs
• Network DVR
• D1 resolution
• Records video and audio
• Motion detect
• Typically 500 Gigabyte to 2.0 Terrabyte storage
• Automatic maintenance


Call us to choice a CCTV system that suits your needs

---


Quality installation of security cameras Auckland wide, including the North Shore, Waitakere, Manukau, Takapuna, Glenfield, East Coast Bays, Beachaven, Birkdale, Birkenhead, Albany, Northcote, Devonport, Auckland Central, East Auckland, Pakuranga, Howick, Botany, Glendowie, St Heliers, Newmarket, Mt Eden, Epsom, Ponsonby, Grey Lynn, Remuera, Mt Albert, Mt Roskill, Onehunga, Henderson, Te Atatu, West Harbour, Mangere, Otahuhu, Papatoetoe, Otara, Airport Oaks, Penrose.

---
Return from Security Camera Systems to the Auckland Security Cameras home page
---