Announcing ... A New Deal For Auckland Business Owners



If You Choose A CCTV System For Your Business in November 2014,
We'll Also GIVE You
A Complete System (that we normally sell For $690 ) 

For Your Home, To Protect You and Your Family… FOR FREE!

Is that all you need to know?  Great.  Are you an Auckland business owner?  If so please phone me now on 09 551 7716 because we can only do so many installations before the shop theft season starts.




If you need a bit more information that's fine too.  Please read on …

Firstly, you read it correctly … it's Not A Mis-Print … Buy One CCTV System and Get One Free!




Here's how this brilliant offer works …
You Phone me now on 09 551 7716 and tell me you'd like to take advantage of this great deal

You and I discuss & agree on an installation for your business - please be sensible because I reserve the right to tell you to bugger off if you try it on!

You'll have your system up and running within a few hours of us starting work, and

You'll get your FREE CCTV Kit delivered to your door anywhere in Auckland

By the way it doesn't matter if you can't have us install in November.  As long as you have agreed with me on an installation for your business by 9PM Sunday 30 November 2014, and as long as we still have stock available, then you won't miss out!
If you're an Auckland business owner, and you've had a gutsful of staff and shoppers ripping you off
you now have at least 690 reasons to finally fight back.  Plus these very important ones:
• You'll set your business up for the most profitable festive season you've ever had, PLUS the next time something goes bump in the night at home you can instantly see what's going on – on your smartphone!
• Almost overnight you can turn the tables on the thieves hitting your business, and stop the profits leaking out the door PLUS  protect your family home against burglars, vandals, neighbours and other nuisances.
• You can suddenly see everything that goes on in your business whether you're there or not, PLUS when you're away from home you won't have to worry about who's coming onto your property.
• You instantly raise the standards at work in a way no amount of rah-rah team-building will, and your honest staff will love it … your dishonest ones will get a message too PLUS your family will feel safer and more secure.
By the way here's some details of what's in the Home system you'll be getting for Free: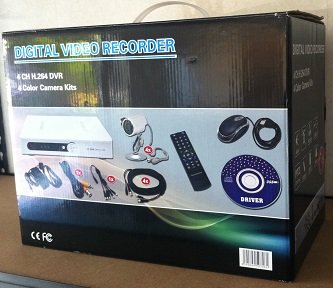 A 4 Channel Network DVR capable of enabling you to access your system remotely over the internet and on your smart devices.
A 500 Gb security grade Hard Disk Drive with a 5 Year Warranty to store your video on inside the DVR.

4 x analog security cameras with 700 TVL resolution.  That's higher than any other kits available in Auckland today.   The cameras are also weatherproof and vandal-proof and have infra red leds so you can get a picture even in pitch black at night.
4 x 18m long cables to connect each camera to the DVR.  These cables supply power to the cameras and also transmit the video data to the DVR.
A CCTV camera power supply.   Just plug into the mains and connect the four leads to your 4 camera power cables and you're away.
A PDF written by Auckland Security Cameras explaining how to set it all up.  Most suppliers are lazy and expect you to be able to interpret the flimsy little brochure that comes with the equipment.  We know from bitter experience that's no good enough.  This PDF will explain everything you need to know to install your system, including the trickiest part - setting up your internet modem so you can have remote access.
A full 2 Year Warranty.  Our research shows most suppliers offer 'warranties' ranging from 0 months to 12 months.  Of course these comapnies are mainly just selling boxes, so don't expect any help from a security camera specialist.
---
How do you know if this is for you?   
Easy.  
You're an Auckland business owner who's been thinking about installing decent CCTV to stop your staff and your shoppers ripping you off.   You've known for a while it's probably happening, but you haven't been sure you can justify the expense.   Even though your logic tells you it'll pay for itself quite quickly in increased profits ( read on for some stats that'll make you cry ) … you just need a gentle push to do something about it.
Well, here's your reason! … and it's not so gentle, but I make no apology for that.  In fact I'm proud to make what I reckon is a genuinely powerful offer.  If you've seen a better offer from any business this year please let me know about it.
Look, I know it's been a tough year for a lot of businesses in Auckland and it's hard to think about spending money right now.   So why not stop thinking about spending money.  Why not invest money in your business for a return instead?   After all why would you part with a cent if you didn't think it'd make you more profit?
And it doesn't amount to many cents either ...
Do you realize you can have all the benefits of a state of the art surveillance system for less than what you're paying for your phones and internet?

You see you don't even have to commit much of your precious cashflow because you can lease the system that's going into your business.  And you don't have to pay a cent for the one that'll help protect your family and your home!
Of course right now you're probably already losing more than that each day anyway.   Let me explain ...
As tough as it's been on businesses this last couple of years …. the trouble is it's been just as hard on most of your staff and your shoppers too.  They're feeling the pressure just like you, and some of them (not all but some of them) are going to try and ease their financial pressure by stealing from you.
Even in good times there's a percentage of your staff and your customers and your vendors that will always steal.  Often it's not particularly planned in advance …. the opportunity just presents itself and next thing … the deed's done.
And they got away with it.
And they start thinking about doing it again.
And on it goes …
I was with a client of ours today who put it quite bluntly "We're not making any money, and it's because the staff are stealing."
He's trading all right.  Sales are ok.  But he's watching his gross profit disappearing.
But not for long.  Cameras are going in to the key areas of his business and the effect is already dramatic.
As the saying goes "people do more good and less bad when they think they're being watched."
Here's those statistics I mentioned earlier.  
(They're taken from an article by FJ Tarasoff who is considered a leading authority in retail loss prevention and has been featured in numerous newspapers and magazines including Globe and Mail, Small Business Report, Grocer and Hardware Mag. etc. He has more than twenty five years experience in retail and understands the cost of retail theft. In 1989 a record store he owned went under in a large part due to shoplifting. A few years later he was physically attacked by a shoplifter while managing a health food store. These two events inspired him to research and develop various training programs to better prevent, detect and deter both internal as well as external theft. For the last decade Tarasoff worked closely with law enforcement, security companies, trade associations as well more than 250 shoplifters were interviewed in order to better understand theft and how to best reduce theft.)
Shoplifting and employee theft will cost the retailer a great deal of lost profits and everyone pays for this crime. Retailers suffer lower profits and consumers ultimately pay higher prices. Some stores charge up to 7 cents per dollar to cover retail losses which can make a business less competitive. But let's break it down a bit further and examine the actual cost of shoplifting to both the retailer as well as the consumer.

Many retail businesses are unaware of the impact of retail loss on their business and some businesses live in a world of denial, in terms of profits walking out their door. There is a simple basic formula which applies to virtually every single retail outlet from the mom and pop stores to the large retail chains.
Formula for calculating total annual Retail Losses
Estimate your businesses gross yearly sales, then multiply this figure by a value of 1%. Repeat this calculation again but this time take your gross yearly sales and multiply it by 8%.
Example 1: $1,000,000 (yearly gross sales) X 1% = $10,000 (retail loss)
Example 2 : $1,000,000 (yearly gross sales) X 8% = $80,000 (retail loss)
Generally most retail businesses yearly losses are somewhere between the two example figures of 1% and 8 %. Although your yearly gross sales will vary the percentage figures will remain constant.
Please note that Example 1 represents a business with strict inventory control, ongoing staff loss prevention training and a combination of security systems and strategies. Example 2 represents a company with little or no anti-loss policies.
Although at times there is a notion that shoplifting and internal theft is a victimless crime, this is in fact not true. Everyone, except the thief pays as it is estimated that every consumer in the US and Canada pay's a minimum of $250 each year because of crimes against merchants.
Theft of a $2.00 item from a store operating on a 10% profit margin requires the sale of $20.00 in merchandise to make up for the loss. Supermarkets and other retailers operating on low margins of 1% must sell $500.00 in merchandise, just to cover the cost of a $5.00 stolen item. It's easy to see how out-of-control shoplifting can quickly threaten the viability of a business.
The cost of shoplifting is high and is expected to skyrocket due to the global economic crisis. Retailers need to re-examine their level of security and should begin to take a more proactive role in the battle against retail theft. Most retail loss experts agree that in order to be successful there needs to be a combination of anti- theft devices combined with good staff training in the prevention of retail shrinkage.
If you're still not convinced that this would be a great idea then let me ask you this:
Is it because you don't trust us to put in a decent system at your business?
If so, fair enough.
---
To put your mind at rest even more here's our 

Unmatchable 7 Point Guarantee:
1. Auckland Security Cameras Ltd Guarantees the following because this is a security system, protecting valuable people and other assets,  and you need to feel totally confident it will do its job.
 2. If for any reason your business CCTV System does not do what we agreed it would do when you bought it, you will be refunded 100% of your purchase price.
 3. In addition we will remove your system components, so you can replace them with a system from someone else you feel will meet your needs better.
 4. Also you will be left with the cabling that we installed, to make it less costly and simpler for you to install another provider's system.
 5. We will, if required by you, also recommend other suppliers who we feel will get you a better result than we were able to.
 6. All we ask before we remove and refund you, is that you give us the chance to rectify the problem and get it working 100% to your satisfaction again.  If this means for example that we specified the wrong type of camera for a particular location, we will replace it with a higher specification camera better suited to the task if we think that will solve the problem to your satisfaction, all at no cost to you.  
 7. This Guarantee is valid for a full 6 months from the date of installation because we want you to have plenty of time to get used to the system and to make sure it can do what you need it to do.
---
Oh, and here's a few comments from some of our happy clients:
"I wish everyone was this helpful."
Gareth Baston, ATEED
"Your service has been fantastic …"
Louise Wallace
"After switching our New Zealand office to fibre internet,  Perth management lost external access to the warehouse cameras. I phoned Auckland Security Cameras after a google search and as a first time customer am very impressed. Brian knew what the problem was right away and was able to fix it remotely that day. Very prompt and friendly service."
Charlotte MacDonald, Elusion
"Most importantly I  now know my business is protected … I'm off away a fair bit now so I can take a good look at what's going on."
Scott Donovan, Life Menswear
---
Ok, if you've been thinking about installing a CCTV system in your business, and you're in Auckland, pick up the 

phone Right Now and call 09 551 7716.
You'll never get a better incentive to do this.  
So why not make it the very next thing you do?
Phone 09 551 7716 now so you get your profit saving system in place before the shoplifting season starts in earnest.
You've got absolutely nothing to lose and so much to  gain.
Cheers,
Brian Clough
Auckland Security Cameras Ltd
(09) 551 7716
PS   When you call (09) 551 7716 make sure you ask me about our unique Monitoring service which easily solves the single biggest problem that causes almost all of the failures of CCTV systems to get results.
PPS  You'll get Building Stickers for both your home and your business.  And these are proper UV resistant stickers that stand out and really make it quite clear that cameras are operating now.
PPPS   This offer is one that we're testing in November 2014 only, so there's absolutely no guarantee that it'll ever be repeated.  Phone now 09 551 7716 & get your free system.